Neurodivergence is a natural part of humanity. Autism, ADHD and other non-neurotypical neurotypes do not need 'fixing', or 'treating'. Neurodivergence does not cause mental illness. Unfortunately however, we live in an ableist society.
Masking, sensory needs not being met and ableism can and do cause mental health problems, including burnout, in neurodivergent children and adults.
Beyond that, those of us who are neurodivergent, of course have all of the stressors, relationship issues and life transitions that anyone else has. We may also experience specific issues such as the double empathy problem and a lack of understanding of our monotropism by partners, friends and family members.
Whatever your reason for seeking therapy for yourself as an adult or your neurodivergent child, it is really important to work with someone who has understanding of, and is experienced in working with a range of neurotypes.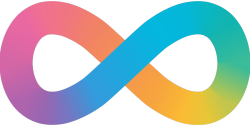 Children
I have many years of experience of working with neurodiverse children and young people and have undertaken specific training to ensure that my work is neurodiversity affirmative and child centred.
This means that I work with your child's unique strengths and interests. I will never seek to change their unique ND profile nor 'teach' them to emulate neurotypical behaviours.
I will celebrate them for who they are, give them the space and resources to unmask, to learn about themselves, to improve their self-esteem, to advocate for their own needs and to explore any feelings or issues which are coming up for them in a safe, engaging and playful way.
I can work with your child either in the familiar setting of the home environment, at school (by arrangement) or if they prefer digital communication, by Zoom.
If needed I can also work with the family or child's school to support an accommodation based approach. As a qualified teacher, I am well placed to have the necessary conversations with teachers and SENCOs and can advocate for your child's needs.
You can read more on my child therapy page.
Adults
If you identify as neurodivergent, autistic or ADHD (whether or not you have a formal diagnosis) it may be important to you to work with a counsellor who has knowledge and lived experience of neurodiversity.
As a member of the ND community myself, I work hard to keep up to date with current research, approaches and paradigms.
My work is always ND affirmative. Whether you are seeking therapy to explore your ND profile or for an unrelated reason, I will hold a safe space for you to explore your thoughts, feelings, needs, behaviours and relationships in a supportive, non judgemental way.
We can work online via Zoom, or if you find nature to be a source of comfort, I offer ecotherapy sessions in my home town of Lytham St Annes.
You can read more about me on the home page.